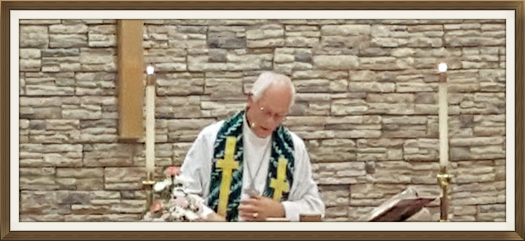 June/July 2017
MESSAGE FROM PASTOR RAY
From the Pastor
Wow! Immanuel has celebrated 128 years of ministry in this community! Have you ever wondered what was going on in the world as your congregation was officially organized? Here are a few significant events that happened in 1889.
North & South Dakota, Montana, and Washington were admitted to the union, becoming the 39th, 40th, 41st, and 42nd states of the United States respectively. Benjamin Harrison was inaugurated as the 23rd President.



Mark Twain wrote A Connecticut Yankee in King Arthur's Court. Van Gogh painted "Landscape with Cypress Tree." Barnum & Bailey's Circus began in London. Alexander Gustave Eiffel designed the Eiffel Tower for the 1889 Paris World Exhibition.


Significant births in 1889: actor Charlie Chaplin, German philosopher Martin Heidegger, Adolph Hitler, and American astronomer E. P. Hubble, after whom the Hubble Telescope is named.
Some good and bad came out of 1889, but to the lasting credit of the founding families of Immanuel Lutheran Church, they provided a wonderful heritage of helping and making a difference in the world.
Countless people have been nourished in faith through Word and Sacrament as Immanuel has faithfully carried out its Mission Statement:
Love God – Serve the Community – Grow Together
As we begin our 129st year of mission and ministry, a new chapter in the life of Immanuel congregation is taking shape. 2017 is just as exciting as 1889 when it all began, for small groups have been formed around various study topics to foster greater fellowship and growing together through the grace of our Lord Jesus Christ. New beginnings are exciting which we experience in the resurrection of our Lord. We are privileged to pass on this hope and promise to future generations as well as the whole community around us!
See you in church!

Pastor Ray