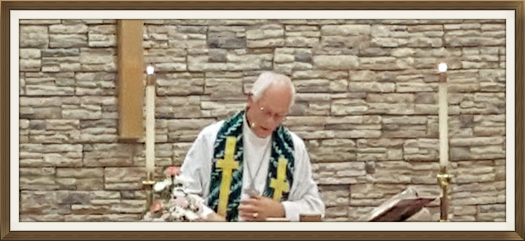 November 2017
I recently attended a conference on"Faith in Action Initiatives" sponsored by Baylor Scott & White Health. The purpose of this event: to invite pastors of our area to identify members of their congregations who have a passion for a ministry outreach of presence for persons who are isolated and lonely and in need of support for health care and other needs.


For years, members of Immanuel have served the community with such ministries of caring. Carl and Ann Berryhill drove patients to treatments and doctor appointments through the auspices of the American Cancer Society. Brigitte Gordon served as a hospice volunteer and helped with transportation for many unable to drive. James and Maria Hitt did the grocery shopping for elderly neighbors who could not get out to the store themselves. Kenny Kunz called and visited those who were hospitalized or home-bound, and phoned visitors to Immanuel. There may be many others that I don't know about.


The above named volunteers from Immanuel have retired from their valuable ministry to others. We are seeking to recruit interested persons who are called by God to continue such outreach. It so happens that Baylor Scott & White Health is offering training for this Faith in Action Initiative: providing education, resource navigation, and pair those in need from the community with a faith care giver from the congregation.


Jesus cared about the restoration of the whole person, and healing is an essential part of the proclamation of the gospel. Hospitals have long been associated with churches as a way to serve the poor and the unloved. As health care grows more difficult to navigate and finance, how might we care for the whole person, whether in our own congregation or the world?


Faith Community Health is a growing area that focuses on empowering faith communities towards health and healing in terms of body, mind and spirit. If this ministry is close to your heart, please let Pastor Ray know as soon as possible, as a new volunteer training session will be scheduled soon. Volunteers come with passion and compassion, the training provides structure and tools to assist them in this needed ministry.


Let me know if you are called to serve!
See you in Church...
Pastor Ray