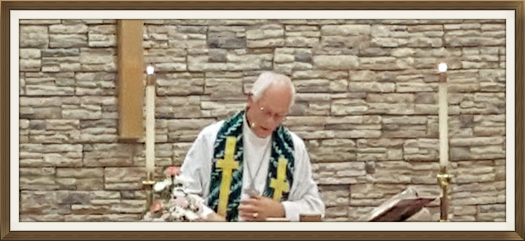 August 2017
Every once in a while members of a local congregation get to participate in the larger church body of which we are a part: The Evangelical Lutheran Church in America. Coming September 10th is "God's Work - Our Hands" Sunday when ELCA members throughout the world will engage in local mission projects in order to put our discipleship into practice. Immanuel has selected Friends in Crisis Homeless Shelter to be our mission project for that special Sunday.
We have another opportunity to be involved in the ministry of the ELCA by participating in the on-going Adult Bible Class on Sunday mornings: "Faith, Sexism, Justice: Conversations toward a Social Statement." The ELCA Task Force on Women & Justice: One in Christ has invited congregations to join the discussion and add our input to the development of this new social statement.
After receiving feedback from over 100 listening events and several dozen specialists, the task force has written the study "Faith, Sexism, Justice..." as a way to receive broader perspective with the questions and issues raised. There are seven modules in the series which we started at Immanuel on July 9 and will conclude on August 20. The response deadline is August 31, so we will be able to add our input to the mix.
The modules already completed have sparked lively conversation and raised awareness of some things we have taken for granted. You are welcome to come any time to join the conversation and express your own thoughts and opinions.
The four remaining modules are:
July 30: "What does economic sexism look like, and how can we seek equality for all?"
August 6: "Addressing violence against women and girls?"
August 13: "Why do words and images for God matter?"
August 20: "How do we challenge the misuse of Scripture against women and girls?"
Join us when you can for this fascinating discussion!
See you in Church...

Pastor Ray