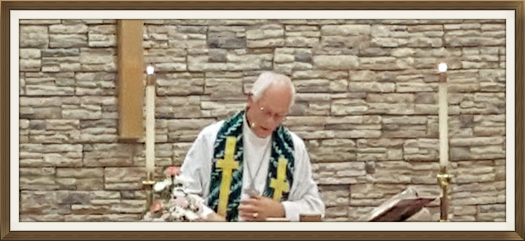 December 2017
MESSAGE FROM PASTOR RAY
As we make the move into the new year 2018, may your life be blessed with good health and peace as the year unfolds. One thing is certain: change is occurring as I am about to retire after serving as your pastor at Immanuel for the past 24 years.
We turn to the last book of the Bible for guidance in approaching such significant change. Revelation 21:1-5 is a passage often used as a word of hope for new beginnings. It's a powerful message for all of us at Immanuel as we start this new year.


Then I saw a new heaven and a new earth; for the first heaven and the first earth had passed away, and the sea was no more. And I saw the holy city, the new Jerusalem, coming down out of heaven from God, prepared as a bride adorned for her husband. And I heard a loud voice from the throne saying: "See, the home of God is among mortals. He will dwell with them as their God; they will be his people, and God himself will be with them; he will wipe every tear from their eyes. Death will be no more; mourning and crying and pain will be no more, for the first things have passed away." And the one seated on the throne said, "See, I am making all things new." Also he said, "Write this, for these words are trustworthy and true."

​
All things new, that's the trustworthy promise of God! For me, it is restructuring life after retirement; for you it is the forging of new relationships with pastoral leadership. Jesus died and rose again so that the good news, the Gospel message of hope and life and love is ever new and fresh to the world. God is present at Immanuel, sending His Spirit to move you in new directions of mission and ministry.
Throughout the years, Immanuel has responded with faithful service and commitment to whatever and wherever need is identified. It is my prayer that this new year 2018 may bring you many new opportunities to provide a home of God among mortals. God's richest blessings and Happy New Year to all!


See you in Church...
Pastor Ray